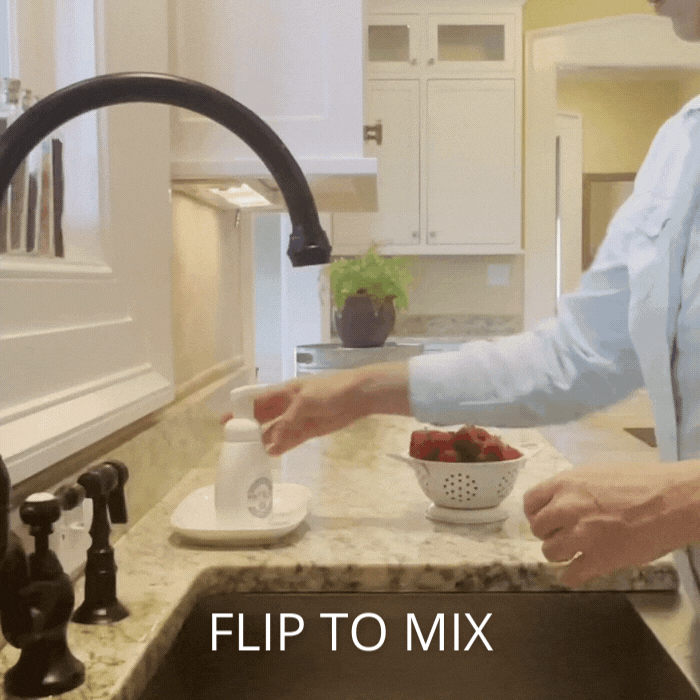 Do you know why frankincense and myrrh have always been expensive and why they were considered gifts worthy of a new king at the first Christmas? Their great value is a result of their extraordinary medicinal properties. I'm not sure how they figured it out way back then, but current day science has shown that these plants can go into a cell, identify the damage of the cell, and repair the cell on the DNA level..... so it's now a healthy cell and able to make other healthy cells. Oh, and there are so many other amazingly wonderful things these plants can do.
It's easy to see from this perspective how that could make your body function better... and why these plants were so valued! Now, imagine using these plants in and on your body, on a regular basis, and reaping the health benefits every day - on the cellular level. 

Since your skin easily absorbs the ingredients you wash with, we've created a special formula honoring the first Christmas, called 3KINGS, made of a blend of Frankincense, Myrrh, and Amber (representing gold). Then, we add the 3KINGS Formula to our vegan bar cleansers and foaming cleansers. So now, your body can absorb the benefits each time you wash! And, since they are extra gentle and anti-aging, your skin will LOVE THEM! Wash your face, body, and hair... and enjoy a sulfate-free, lye-free, pure organic plant washing experience.

This listing is for our 3KINGS UDC (foaming cleansers) and they are available for a limited time! They are vegan, sulfate-free, and moisturizing - making them great as a facial wash, body wash, hair wash, and use for the best shave ever. Your body will absorb the benefits of this formula every time you wash. Plus, you'll get a fresh earthy scent each time you pump it.
We create our bar and foaming cleansers from real organic plants and organic vegetable glycerin - so they are organic cleansers. We don't call them soap because they don't contain lye, but some of us have used them for over 30 years and can guarantee that they clean really well!

The foaming cleansers will need to flip it upside down every time before using (UDC = Upside Down Cleanser). It's more gentle than lye-based soap and every ingredient is designed to improve the quality of your skin. Even the colors are mixed from plant and mineral powders - so there are absolutely no artificial ingredients. Plus, we use organic plants, and no animal fats, so you are literally washing with organic, vegan cleansers.
You will love how soft your skin feels. 
Scent: There is nothing in the world like the scent of frankincense and myrrh. It isn't floral, harsh, citrus, or spicy. It's just earthy and grounding.
More options: Have you seen the 3KINGS BAR CLEANSERS?
Have questions? Please

s

chedule a

 

Free Consultation.
Size: The bottle and refill bag are each 250g.
Benefits of Upside-Down Cleansers:
All skin types:

 

This residue free cleanser moisturizers your skin - all with plants and no alcohol or synthetic ingredients. Restores your skin naturally - a daily wash for skin that looks and feels healthier.

Safe and gentle:

 

Nourishing, gentle, and pH balanced, so it won't strip your skin or hair of oils. G

reat to use on your body, face, and hair. It is also gentle enough for feminine hygiene and sensitive skin. 



Long-lasting: When used daily, it normally lasts about 1 month in the shower. If you are only using it your skin, it will last much longer.
Versatile: Use as a facial cleanser, shampoo, body wash, and shaving cream.
Pure plants: It is nut free, non-toxic, 100% vegan, cruelty-free, and contains no synthetics ingredients. We use over 200 organic, therapeutic, and medicinal plants and minerals - and that's all. 
Concentrated: for many people, just one squirt is enough to cover your entire arm or your entire face.
Wash and Rinse: Yes, your skin will feel softer when washing with our cleansers, but please remember to rinse them off. They are not designed to stay on your skin or hair and should always be rinsed off.
Size:

 

8.5oz pump bottle. Refill bags available.

Using Alywillow's UDCs
Absorption: Massage it into your skin until it disappears - then rinse it off. Remember it is actually good for your body, so letting it sit on your skin for a minute or two will give those plants time to enter your body before rinsing. This is especially helpful for anyone wanting to absorb the maximum benefits of this formula and this is an essential in reducing the size of large pores and blackheads.

Face: Read 10 Steps to Healthy Skin or schedule a FREE Skin Consultation.
Body: Use your hands to lather the cleanser directly onto the skin. Place the cleanser on the loofah pad after each use to extend its life.
Hair: See our

natural hair care guide

. Use the Lemon Laughs spritzer and moisturizers on blonde hair for natural highlights.

Shaving: Lather on your skin for an extra-close shave - great for men and women. The vegetable glycerin base reduces razor burn and extends the life of your razor blade.
Exfoliating:  Wet the loofah with warm water. Run the soft side gently over your skin in circular motions. Rinse your face and loofah with water. Squeeze out excess water from the loofah and set the bar on it to dry.
Ingredients:
Water, aloe vera, potassium olivate (a derivative of organic olive oil), potassium cocoate (derived from organic coconut oil), vegetable glycerin, potassium citrate (sourced from citrus and vegetables), coconut oil, and essential oils (3Kings Formula with real frankincense, myrrh, and amber). There are no synthetic chemicals, no synthetic fragrances, no synthetic colors, and no other artificial ingredients. There are no sulfates, no parabens, no phthalates, no paraffin, no gluten, no propylene glycol, no alcohol, no mineral oil, no DEA, and no DEET. Alywillow products are cruelty-free and never tested on animals. If an adverse skin reaction occurs, you may be allergic to one of the plants in the formula. Discontinue use, seek medical attention (if needed), and notify us, we may be able to help. If you have allergies to any plants, please review our ingredients list.
Awareness:
Ask our team:

 Wondering what is best for you? Just 

ask us

!

THIS IS NOT TEAR-FREE.

 

Synthetic ingredients are required to make a tear-free cleanser and we do not use synthetic ingredients. Keep it out of your eyes. If it gets into your eyes, flush with water or full fat milk.
Healthy Life:

 Our products offer many great benefits, yet they are not enough to restore your health and joy by themselves. Read 

10 Steps to Healthy Skin

 to learn how your health and happiness are affected by your life choices.

Shifting colors, scents, and textures: Our products are made from plants and plants vary from one harvest to the next. This may cause a variation in color, scent, or texture in our products. It is completely normal and expected from Truly Natural Products.
Cruelty-free and Dog Friendly: We create over 150 VEGAN products from plants and minerals. They are 100% natural and contain no synthetic chemicals. We don't test them on animals, but you can review our Dog and Pet information to understand more how your pets can benefit from using Alywillow products.
Pregnant & Nursing women: Many Alywillow products are safer than anything you can find on the market, however, some plants should not be used during this time. Please refer to our Pregnant and Nursing page for more information.
Coupons:

 Sign up at the bottom of this page to receive our monthly newsletter for updates & coupons.

Disclaimer:

 These statements have not been evaluated by the FDA and therefore should not be taken as medical advice. These products are not intended to diagnose, treat, cure, or prevent any medical conditions. If you are in doubt, always consult your doctor.

USA: We make over 150 products, right here in the USA, using only plants and minerals.
Love Yourself - Love Your Life - Love Your Earth - Love Alywillow