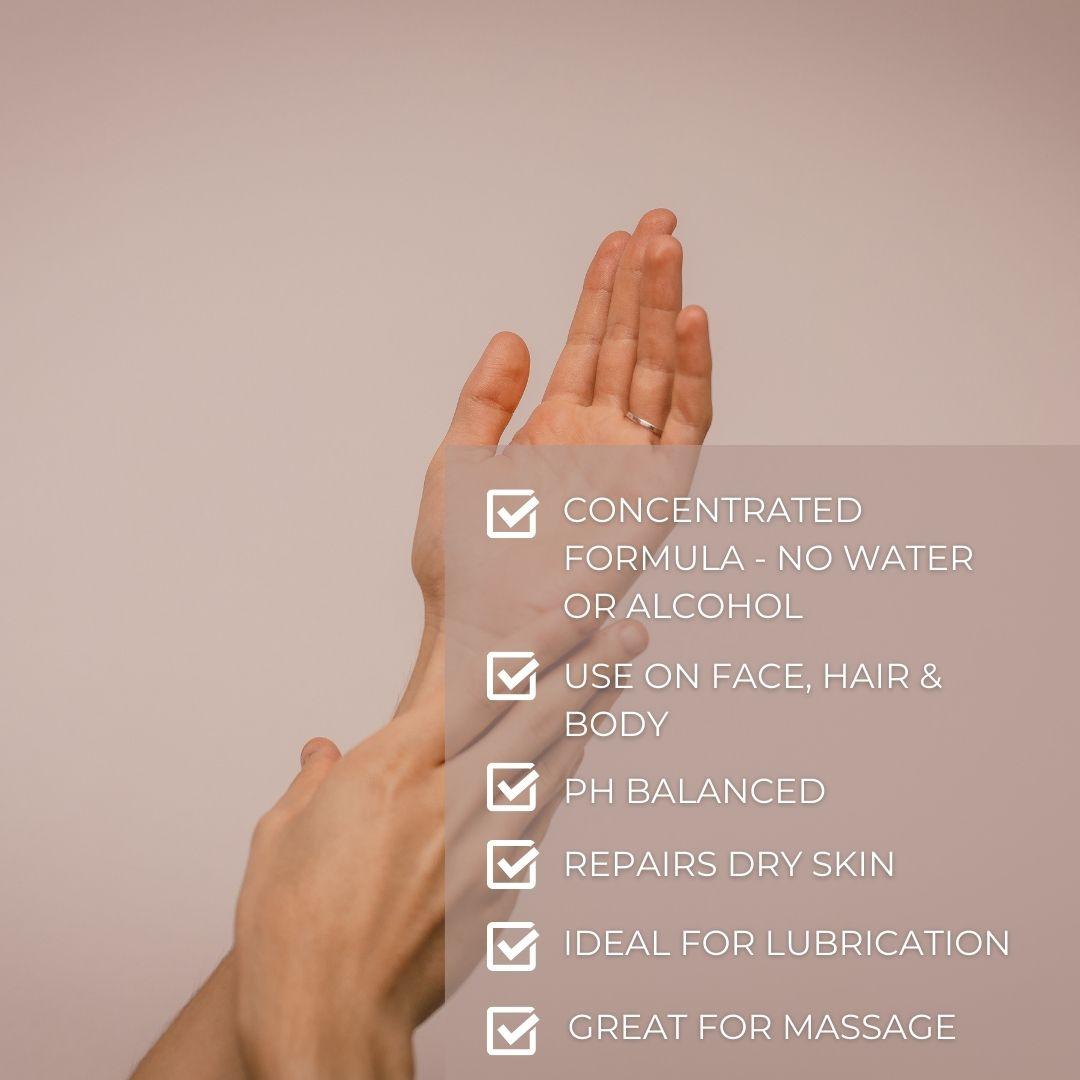 Say goodbye to pain and inflammation with MINTY RELIEF! This medicinal massage oil relieves pain, bruising, and swelling while repairing and restoring damaged tissue.
About the Minty Relief Formula:
Relieves pain and swelling.

Restores damaged tissue.

Reduces bruising.

Boosts energy levels.

Supports your circulatory system, respiratory system, nervous system, and muscular system.

More Options: Have you seen all the Minty Relief

 

Products?
Have questions? We offer many products in addition to this one that can help

 

you with pain. Please s

chedule a

 

Free Consultation.
Benefits of Level 4 Moisturizers:
Skin type:

 

Normal to dry.

Residue:

Feels like silk - excellent for massage.

Protection:

 

8-10 hour moisturizing effect with a natural SPF of 10 (it's just a benefit of these plants).
Where to use it:

B

ody, face, and hair, even intimate areas.
Thickness: It is highly concentrated with no water or fillers and has the consistency of a massage oil.
Nut-free:

 

it does not contain coconut, walnut, shea nut, argan or any other nuts.

Size:

 110g / 4

oz glass bottle (reusable).

Refillable: Refill bags available.
Using Minty Relief Level 4:
Skin:

 

Shake well and squirt it into a clean palm. Then rub on. One squirt is often enough for your entire arm. A little goes a long way.
Hair:

 

See our

 

natural hair care guide

.

Bath Time:

 

Add 1-3 tsp of this moisturizer to your bath water let your body soak it up. Not only will you feel better, but your skin will feel amazing! There is also no need for soap or cleansers (unless you wish to use them).
Massage: Professional Massage Therapist love this level. Remember to shake first to blend the plants. Then, apply to your hand and massage into the skin. This moisturizer leaves a nice slip on the skin for a good flow. Eventually, it soaks into the skin and leaves it feeling healthy and glowing.
Ingredients: 
Sunflower oil, organic avocado oil, organic hemp oil, organic pumpkin seed oil, cherry kernel oil, organic rosehip oil, and a blend of therapeutic essential oils (Minty Relief Formula). There are no synthetic chemicals, no synthetic fragrances, no synthetic colors, and no other artificial ingredients. There are no sulfates, no parabens, no phthalates, no paraffin, no gluten, no propylene glycol, no alcohol, no mineral oil, no DEA, and no DEET. Alywillow products are cruelty-free and never tested on animals.

Awareness:
Ask our team:

 Wondering what is best for you? Just 

ask us

!

Prevent Over-spray:

Spraying directly onto your skin can cause over-spray on your clothing and make your floors slippery. You can prevent this by spraying it directly into your palm and then applying to your body.

ECO-UPDATE: This product is now available in our new GLASS bottles (and refill bags). The recipe is the same and you still need to shake it before using. Please contact us if you have any questions or concerns. We will be moving all Level 3 and Level 4 moisturizers into these new glass bottles over the coming months. 
Avoid your eyes

: If it gets into your eyes, flush with water or full fat milk (for oil based products, including essential oils).



External use only

. Do not consume.

Healthy Life:

 Our products offer many great benefits, yet they are not enough to restore your health and joy by themselves. Read 

10 Steps to Healthy Skin

 to learn how your health and happiness are affected by your life choices.

Shifting colors, scents, and textures: Our products are made from plants and plants vary from one harvest to the next. This may cause a variation in color, scent, or texture in our products. It is completely normal and expected from Truly Natural Products.
Cruelty-free and Dog Friendly: We create over 150 VEGAN products from plants and minerals. They are 100% natural and contain no synthetic chemicals. We don't test them on animals, but you can review our Dog and Pet information to understand more how your pets can benefit from using Alywillow products.
Pregnant & Nursing women: Avoid this product. Use Riverflow instead. Many Alywillow products are safer than anything you can find on the market, however, some plants should not be used during this time. Please refer to our Pregnant and Nursing page for more information.
Coupons:

 Sign up at the bottom of this page to receive our monthly newsletter for updates & coupons.

Disclaimer:

 These statements have not been evaluated by the FDA and therefore should not be taken as medical advice. These products are not intended to diagnose, treat, cure, or prevent any medical conditions. If you are in doubt, always consult your doctor.

USA: We make over 150 products, right here in the USA, using only plants and minerals.
Love Yourself - Love Your Life - Love Your Earth - Love Alywillow
Minty Relief for ganglion cyst and Restless Legs Syndrome
I've purchased and have been given samples of various products from Amy Evans in recent months. Specifically, Minty Relief has lessened the pain in my right hand from a ganglion cyst. I also use it to calm my restless legs prior to sleeping...love it for that too! We've recently used this as well as the Paradigm Massage for my husband's lower back twinges. He indicated he felt relief shortly after massaging these products into his skin. Also have the Breathe Medical Inhaler which I use each morning to clear my sinuses. These products are fast becoming staples in our household and we☺️☺️'d highly recommend them!!! The next product I plan to order is the Riverflow to see how it compares to Minty Relief (my fav to date).
In addition, Amy Evans of Breathe In Blossoms Apothecary is a very knowledgeable product consultant and I'd also highly recommend her help to assist you with any issues you may be having that could be addressed using the Alywillow products!
Minty Relief works wonders
I love using Minty Relief for my back pain and bruising. It helped me heal after my car accident. It greatly reduced the healing time of my bruises and gave great relief for the stiffness. I would highly recommend this product. (Alianza Massage, Durham, NC location)
Thank you for sharing your experience, Nissa! We're glad to hear that Minty Relief has helped you recover through such a difficult time.
Bruising...and pain!
Yesterday I took a crazy fall landing on my knees and hands, instantly I was able to put "Minty Relief" on the my knees and hands. I then did reapply it 2 times afterwards. Then, I woke this morning I had NO pain stiffness or discomfort and NO bruising!
Super amazing formula for so many reasons!!!
We are so happy to hear that our Minty Relief was able to aid you in your fall recovery, Sarah! Did you know that using the Minty Relief cleansers can also help reduce pain and bruising?
Amazing Pain Relief
After receiving my 2nd Covid vaccine I was proactive in using Paradigm to help reducing any adverse effects. But, 24-36 hours after the shot, I had the worst muscle and joint pain as well as pain and swelling at the injection site. So, I added Minty Relief Massage Oil into my routine. And BOY did that help!! After 2 applications I began to feel better. I reapplied it periodically over next 36 hour period. Was actually able to play with my grandson! It was truly a blessing. Thank you for offering such amazing products!
We are delighted to hear that Minty Relief and Paradigm helped you alleviate your vaccine side effects, Sandra!
Ornament
This has help chronic pain I have had in my shoulders and mid back. I have tried other products but this is the best I have found
We're so glad to hear that our Minty Relief moisturizer is helping you, Jessica! The Minty Relief cleansers are great to bathe with if you have chronic pain, and you can use your moisturizer in layers if your desired level of pain relief isn't reached with the initial application.