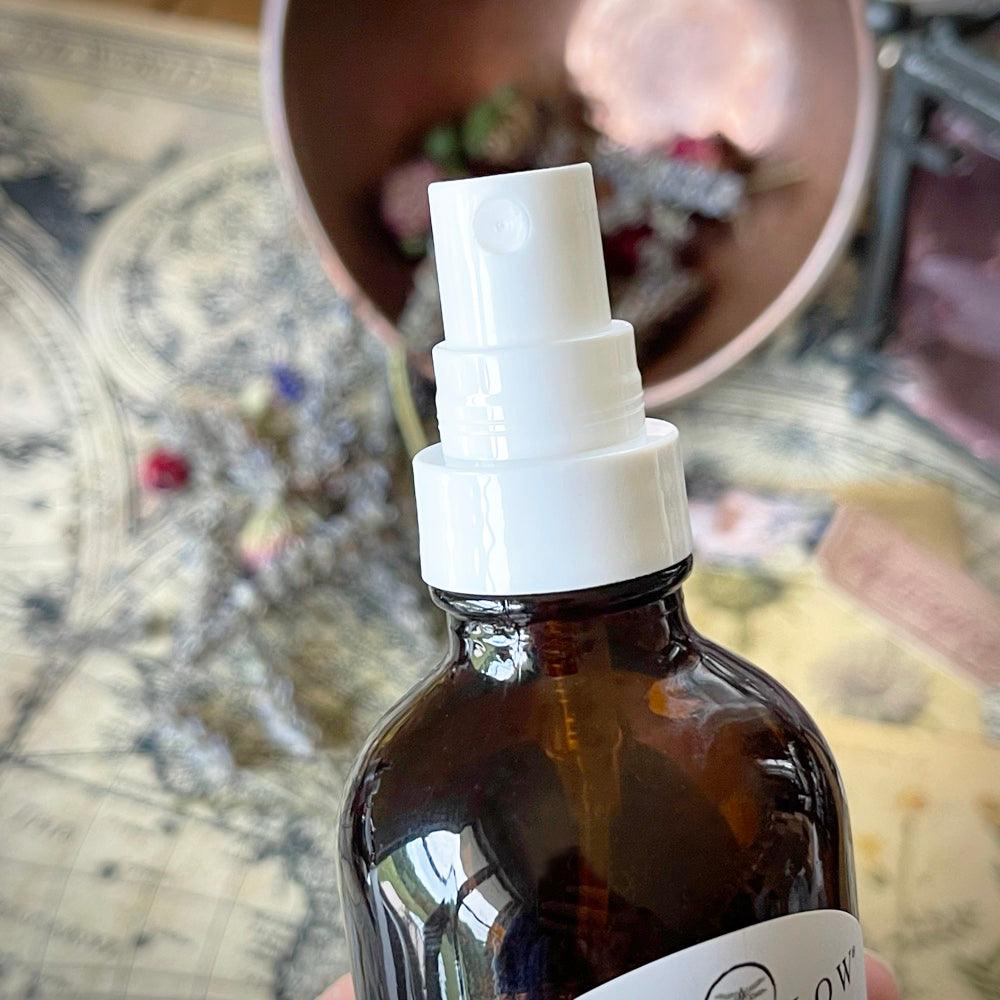 Breathe easier with BUTTERFLY! This spritzer calms your mind and relieves your respiratory system, leaving you feeling transformed like a butterfly. Use it anytime you want a gentle lift and a better feeling. Made in the USA with food-grade ingredients, nut-free, non-toxic, 100% vegan, cruelty-free... the BUTTERFLY SPRITZER contains no synthetics ingredients.
Benefits of the Butterfly Formula:
How does it work? Your body absorbs many of the ingredients of the things you use on it and Alywillow products are made with plants and minerals containing components that give benefits to your body. The Butterfly Formula itself is a series of plants with natural chemical compositions that help your body balance the production of hormones (we all have them) and create more of the hormones that make you happy, like serotonin and dopamine.

Scent: Features soft scents of jasmine, rosewood, and mint.
Balancing:

 

Helps balance hormone levels

Happier:

 

Boosts happy hormone production and this relieves stress for a more balanced, uplifted mood.
Use it daily: Every time you wash or moisturize from body to toe, your body absorbs and enjoys the benefits these plants have to offer!

Better Breathing: Inhaling the Butterfly spritzer also liberates your lungs and can relieve congestion and reduce snoring too! 

Bioavailability: It's surprising how this helps reduce stress. It has much to do with the communication system of your body's cells and the wisdom of Alywillow products. 
More Options: Have you seen all the Butterfly Products?
Have questions? We offer many products in addition to this one that can help reduce your stress levels. Please s

chedule a

 

Free Consultation.
Benefits of Spritzers:
Inhalation benefits: It's actually good for you to inhale this mist. 
Portable Diffuser: It's easy to carry this from room to room, or even on a trip. Spray your pillows, sheets, and clothing. Use it to freshen inside your car, office, classroom, or hotel room.
Strength: Fine mist spray.
Breathable & Safe: Can be inhaled and used on scalp, skin, and hair.

Easy to use: Shake the bottle well and spray.
Size:

110g glass bottle / 220g Refill bags are available.
Using the BUTTERFLY SPRITZER:
INHALE: Shake the bottle well, then spray and inhale. Please close your eyes before spraying your face. ;-)
ENVIRONMENT: You can also spray it on your hair, scalp, or skin. Use it as a room spray and on pillows, sheets, and clothing. It is safe to use this product around babies.
Congestion or Snoring:  Shake the bottle well, close your eyes, mist your face, and inhale deeply. Many people enjoy this spritzer for daily use, but if you desire something strong, look at our

Eucalyptus Inhaler

.
Pure and Natural: 
We make all the Alywillow products right here in the USA, from scratch, using over 200 plants. There are no synthetic ingredients, just the goodness of nature (and the many benefits it provides). Please see full Ingredient List for more details and contact us if you have any questions.
Ingredients:
Purified water and essential oils (Butterfly Formula). There are no synthetic chemicals, no synthetic fragrances, no synthetic colors, and no other artificial ingredients. There are no sulfates, no parabens, no phthalates, no paraffin, no gluten, no propylene glycol, no alcohol, no mineral oil, no DEA, and no DEET. Alywillow products are cruelty-free and never tested on animals. If an adverse skin reaction occurs, you may be allergic to one of the plants in the formula. Discontinue use, seek medical attention (if needed) and notify us, we may be able to help. If you have allergies to any plants, please review our ingredients list.
Awareness:
Ask our team:

 Wondering what is best for you? Just 

ask us

!

Avoid your eyes: If it gets into your eyes, flush with water or full fat milk (for oil based products, including essential oils).
External use only. Do not consume.
Healthy Life:

Our products offer many great benefits, yet they are not enough to restore your health and joy by themselves. Read

10 Steps to Healthy Skin

to learn how your health and happiness are affected by your life choices.

Shifting colors, scents, and textures:

Our products are made from plants and plants vary from one harvest to the next. This may cause a variation in color, scent, or texture in our products. It is completely normal and expected from

Truly Natural Products

. 

Cruelty-free and Dog Friendly:

 We create over 150 VEGAN products from plants and minerals. They are 100% natural and contain no synthetic chemicals. We don't test them on animals, but you can review our

Dog and Pet

information to understand more how your pets can benefit from using Alywillow products.

Pregnant & Nursing women:

 Many Alywillow products are safer than anything you can find on the market, however, some plants should not be used during this time. Please refer to our

Pregnant and Nursing

page for more information.

Coupons:

Sign up at the bottom of this page to receive our monthly newsletter for updates & coupons.

Disclaimer:

These statements have not been evaluated by the FDA and therefore should not be taken as medical advice. These products are not intended to diagnose, treat, cure, or prevent any medical conditions. If you are in doubt, always consult your doctor.

USA:

We make over 150 products, right here in the USA, using only plants and minerals. 
Love Yourself - Love Your Life - Love Your Earth - Love Alywillow
I love this spritzer. It helps me relax and breathe...I tend to hold my breath when concentrating. It also helps with sleep. I use it several times a day. Highly recommend trying all the spritzers.
It's wonderful to hear that our Butterfly Spritzer is helping you breathe easier & sleep better, Joan! Island Rain is also amazing for a relaxing night's sleep.
I use the spritz every AM and PM. I often get compliments on the smell. I love it.
In love
I have to tell you too, that I'm in love with your Butterfly formula! The smell makes me so happy and instantly puts me at ease! I don't know what it is! I spritz it on before bed and sleep wonderfully all night! I would love to have it as my perfume! Thank you for the Butterfly Spritzer! Oh my gosh! I LOVE the smell!!!