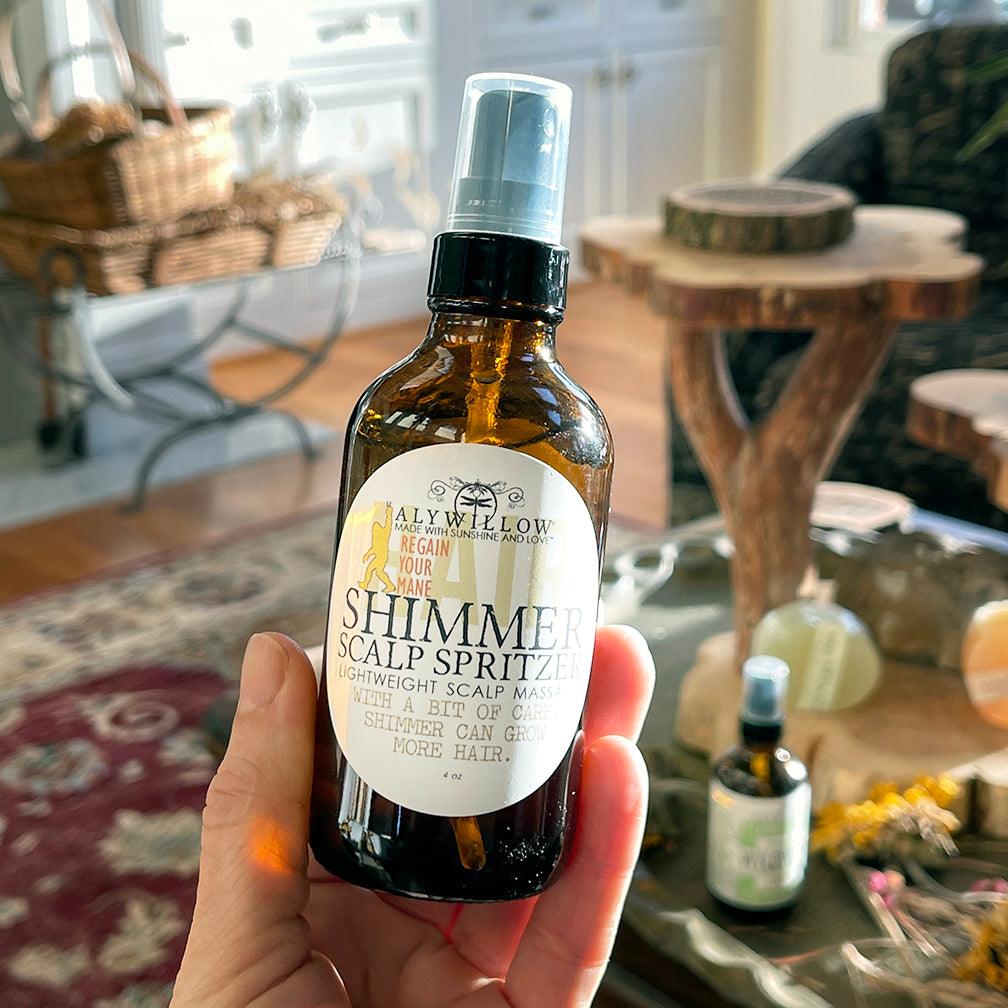 SHIMMER HAIR SPROUT is an oil-free scalp spray supplying restorative nutrients to your scalp, which improves it's health at a cellular level and helps your hair grow. However, many of our customers choose it just because they enjoy the way their hair looks all day after using it. It's easy to use. Just spray and massage lightly with your fingertips to disburse the nutrients evenly on your scalp, which also helps restore better circulation to this area. Better circulation and high nutrition are the two magical ingredients for growing better hair. Of course, you should also avoid synthetic products that might through off your pH balance or create havoc at a cellular level.
How does Alywillow's SHIMMER formula work?
Your body absorbs many of the ingredients of the things you use on it and Alywillow products are made with plants and minerals that offer natural chemicals that do good things for your body.
BALANCING: Helps regulate the pH balance of your scalp. 
HAIR GROWTH: Encourages hair growth. Can also be used to regrow eyebrows.
HEALTHY HAIR AND SCALP: Absorbs fast into your scalp without any residue. Makes your hair look better. Also safe for color treated hair.
Not sure if this is right for you? 

 

Talk with our Team

 

or choose an Alywillow Independent Specialist

 

so we can customize your facial or body program to meet your specific needs. We are here to help you.
Benefits of Spritzers:
Size:

110g glass bottle



Portable Diffuser: It's easy to carry this from room to room, or even on a trip. Spray your pillows, sheets, and clothing. Use it to freshen inside your car, office, classroom, or hotel room.
Strength: Fine mist spray.
Easy to use: Shake the bottle well and spray.
Using the SHIMMER SCALP SPRITZER:
 Shake the bottle well. Then, part your hair and spray the product onto your exposed scalp. Repeat until your scalp is well saturated. Use on wet or dry hair.
Gently massage your scalp for 1-2 minutes using your fingertips. This improves circulation while evenly distributing the product.
If your scalp has the ability to grow new hair you will see results after 1 or 2 bottles. If you have used two bottles with no new growth, you do not need to continue using the Shimmer Spritzer.
Do not use on any areas that you do not want to thicken and increase hair growth.
For best results use only Alywillow products on your scalp.

View our 

Natural Hair Care Guide

 for more information.
Ingredients:
Fresh mountain purified water, aloe vera, witch hazel, and essential oils (Shimmer Formula). There are no synthetic chemicals, no synthetic fragrances and no synthetic colors. There are no sulfates, no parabens, and no phthalates. No paraffin, no gluten, and no propylene glycol. Free from alcohol and mineral oil. No DEA and no DEET. In fact, our products are free from all artificial ingredients. Also, Alywillow products are cruelty-free and never tested on animals. If an adverse skin reaction occurs, then you may be allergic to one or more of the plants in this product. Therefore, you should discontinue use and seek medical attention if needed. Also notify us - we may be able to help. If you have allergies to any plants, then please review our ingredients list before using our products.
Awareness:
Can cause hair growth: Do not use on any areas that you do not want to thicken and increase hair growth. We once had a post menopausal customer bath her body in the Shimmer hair wash and then had the thickest hair on her body she had every had, everywhere.  ;-)

Ask our team:

Wondering what is best for you? Just 

ask us

! 




Avoid your eyes: If it gets into your eyes, flush with water.
External use only. Do not consume.
Healthy Life:

 Our products offer many great benefits, yet they are not enough to restore your health and joy by themselves. Read 

10 Steps to Healthy Skin

 to learn how your health and happiness are affected by your life choices.

Shifting colors, scents, and textures: Our products are made from plants and plants vary from one harvest to the next. This may cause a variation in color, scent, or texture in our products. It is completely normal and expected from Truly Natural Products.
Cruelty-free and Dog Friendly: We create over 150 VEGAN products from plants and minerals. They are 100% natural and contain no synthetic chemicals. We don't test them on animals, but you can review our Dog and Pet information to understand more how your pets can benefit from using Alywillow products.
Pregnant & Nursing women: You can use this product. Many Alywillow products are safer than anything you can find on the market, however, some plants should not be used during this time. Please refer to our Pregnant and Nursing page for more information.
Coupons:

 Sign up at the bottom of this page to receive our monthly newsletter for updates & coupons.

Disclaimer:

 These statements have not been evaluated by the FDA and therefore should not be taken as medical advice. These products are not intended to diagnose, treat, cure, or prevent any medical conditions. If you are in doubt, always consult your doctor.

USA: We make over 150 products, right here in the USA, using only plants and minerals.
Love Yourself - Love Your Life - Love Your Earth - Love Alywillow