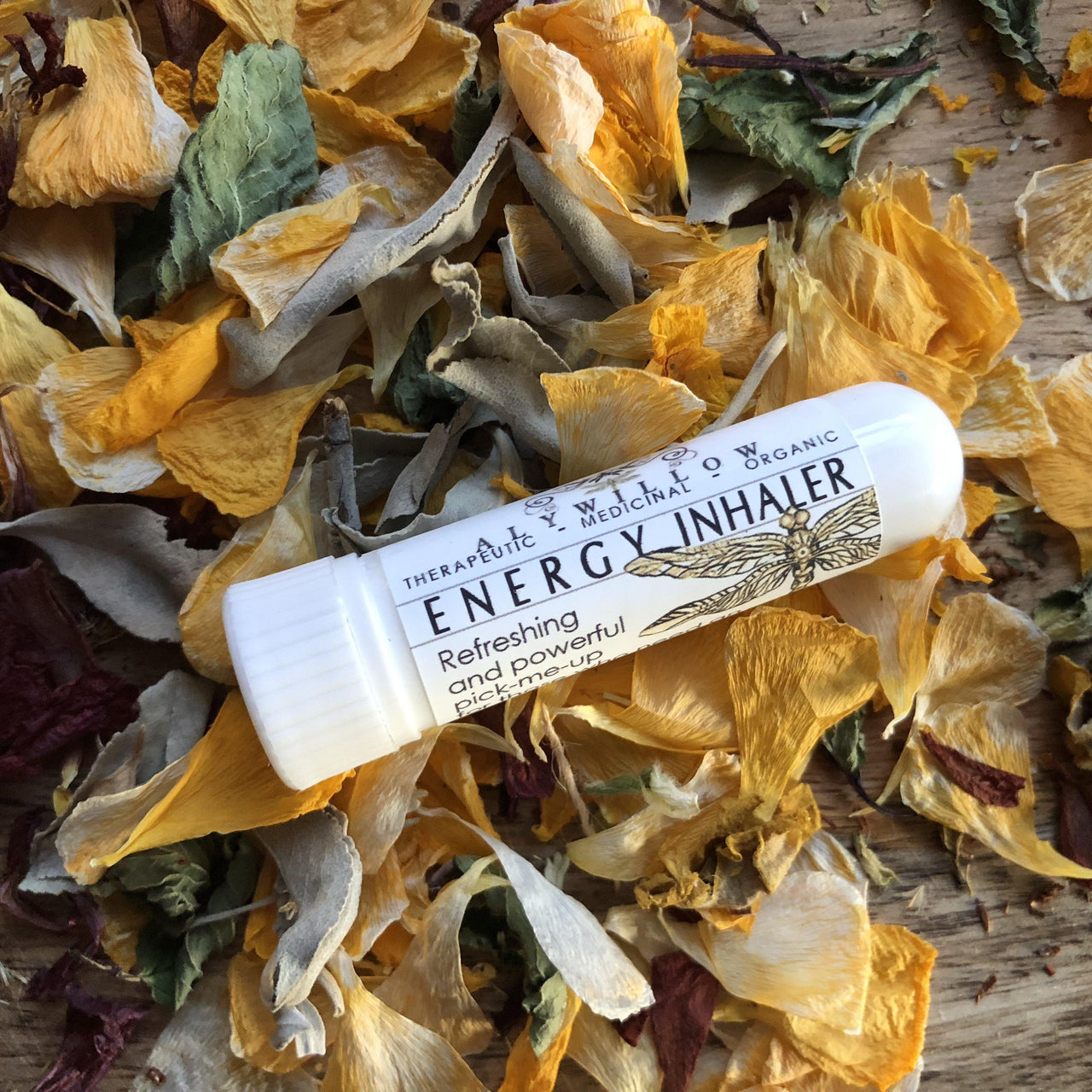 Take a deep breath of our ENERGY Medicinal Plant Inhaler to feel more energized and productive.

Safe energy boost: Did you know caffeine causes damage to the body and will last up to 12 hours in your cells. You can crash after it leaves your body and it's also addictive, causing headaches if you don't get the right amount every day. Alternatively, our Energy Inhaler gives you a boost of energy without any addiction or crash. It doesn't harm your body and since it only last about 4 hours... you can use it in the early evening and still sleep well at night.

Pure & simple: There are no drugs and no synthetic ingredients, instead we use pure plants to create a complex formula creating large scale effectiveness that supports your brain function.
Portable & easy: Small, but powerful, you can easily carry them with you wherever you go.
Fast relief: Just as your body can get sick from breathing the wrong things, your body can feel better from breathing the right things. The vapors of our inhalers are so small they are easily absorbed into your lungs and transferred into your circulatory system, offering quick relief to your entire body. 

Get one or get the set: This listing is for one ENERGY Inhaler, or you can get the Set of 5 Medicinal Inhalers. All together, they can bring you many benefits, such as calming headaches, helping you breathe easier, increasing your energy levels, reducing stress and anxiety, and improving your focus.

How to Use:
Adults: Twist to take off the cap. Hold the inhaler just under your nose and breathe in the vapors for a few minutes. Alternatively, adults can insert into each nostril and breathe deeply every 4-6 hours as needed. However, do not use more than 3x a day as your nose lining is sensitive.

Children: Those between 5-18yrs can hold them under the nose & inhale for a few minutes. Their noses are sensitive and they should never insert into the nostril. Ask us how our other products can help your little ones under 5 years of age.
Ingredients:
A combination of therapeutic grade essential oils. There are no synthetic chemicals, no synthetic fragrances, no synthetic colors, and no other artificial ingredients. There are no sulfates, no parabens, no phthalates, no paraffin, no gluten, no propylene glycol, no alcohol, no mineral oil, no DEA, and no DEET. Alywillow products are cruelty-free and never tested on animals. If an adverse reaction occurs, you may be allergic to one of the plants in the formula. Discontinue use, seek medical attention (if needed) and notify us, we may be able to help. If you have allergies to any plants, please review our ingredients list.
Awareness:
Ask our team:

 Wondering what is best for you? Just 

ask us

!

Shake before using:  Before using you new inhaler, shake it a few times so the stuffing can absorb any drops of liquid that may have separated since it was made.

Do not use more than 3x a day or you can hurt the lining of your nasal passages.

If you do this, you may feel a burning sensation for 30-60 minutes. You can try putting oil on the inside of your nasal passage to reduce the pain. Regular overuse could cause long term damage. Please always be kind to your body. It's the only one you have.

LONG-Lasting: If you secure the lid tightly when not in use, these will last more than 6 months, even when used everyday.
Temporary Relief: These inhalers may offer temporary relief, but excessive headaches, stress, breathing problems, and focus problems can be indicators of more serious issues. Always see your doctor if your problems are continuing on a regular basis or if you have any questions or concerns.

Avoid your eyes

: If it gets into your eyes, flush with water or full fat milk (for oil based products, including essential oils).

External use only

. Do not consume.

Healthy Life:

 Our products offer many great benefits, yet they are not enough to restore your health and joy by themselves. Read 

10 Steps to Healthy Skin

 to learn how your health and happiness are affected by your life choices.

Shifting colors, scents, and textures: Our products are made from plants and plants vary from one harvest to the next. This may cause a variation in color, scent, or texture in our products. It is completely normal and expected from Truly Natural Products.
Cruelty-free and Dog Friendly: We create over 150 VEGAN products from plants and minerals. They are 100% natural and contain no synthetic chemicals. We don't test them on animals, but you can review our Dog and Pet information to understand more how your pets can benefit from using Alywillow products.
Pregnant & Nursing women: Use when needed. Many Alywillow products are safer than anything you can find on the market, however, some plants should not be used during this time. Please refer to our Pregnant and Nursing page for more information.
Coupons:

 Sign up at the bottom of this page to receive our monthly newsletter for updates & coupons.

Disclaimer:

 These statements have not been evaluated by the FDA and therefore should not be taken as medical advice. These products are not intended to diagnose, treat, cure, or prevent any medical conditions. If you are in doubt, always consult your doctor.

USA: We make over 150 products, right here in the USA, using only plants and minerals.
Love Yourself - Love Your Life - Love Your Earth - Love Alywillow
Pick Me Up!!!
Love this product! So in love with this company and it's philosophy. Would LOVE to have a store in Wilmington!❤️
Thank you for your feedback Jillian, we would love to have our products out in the Wilmington area too! We offer a wholesale program that spans coast to coast with chiropractors, doctors offices, massage therapist, and customers just like you who wish to share the love of Alywillow. If you are interested, you can find more information at the link below. Happy to hear that you are enjoying your energy boosting inhaler!
Does just what it says it does. Provides more energy with no side affects. Will definitely be returning to try new products.
We appreciate your feedback Sweet! We offer more energy boosting products like the Firefly formula that invigorates the senses or some that can help you relax and unwind after a long day like the Lavender Fields and Dragonfly formulas. Thank you for supporting Alywillow!