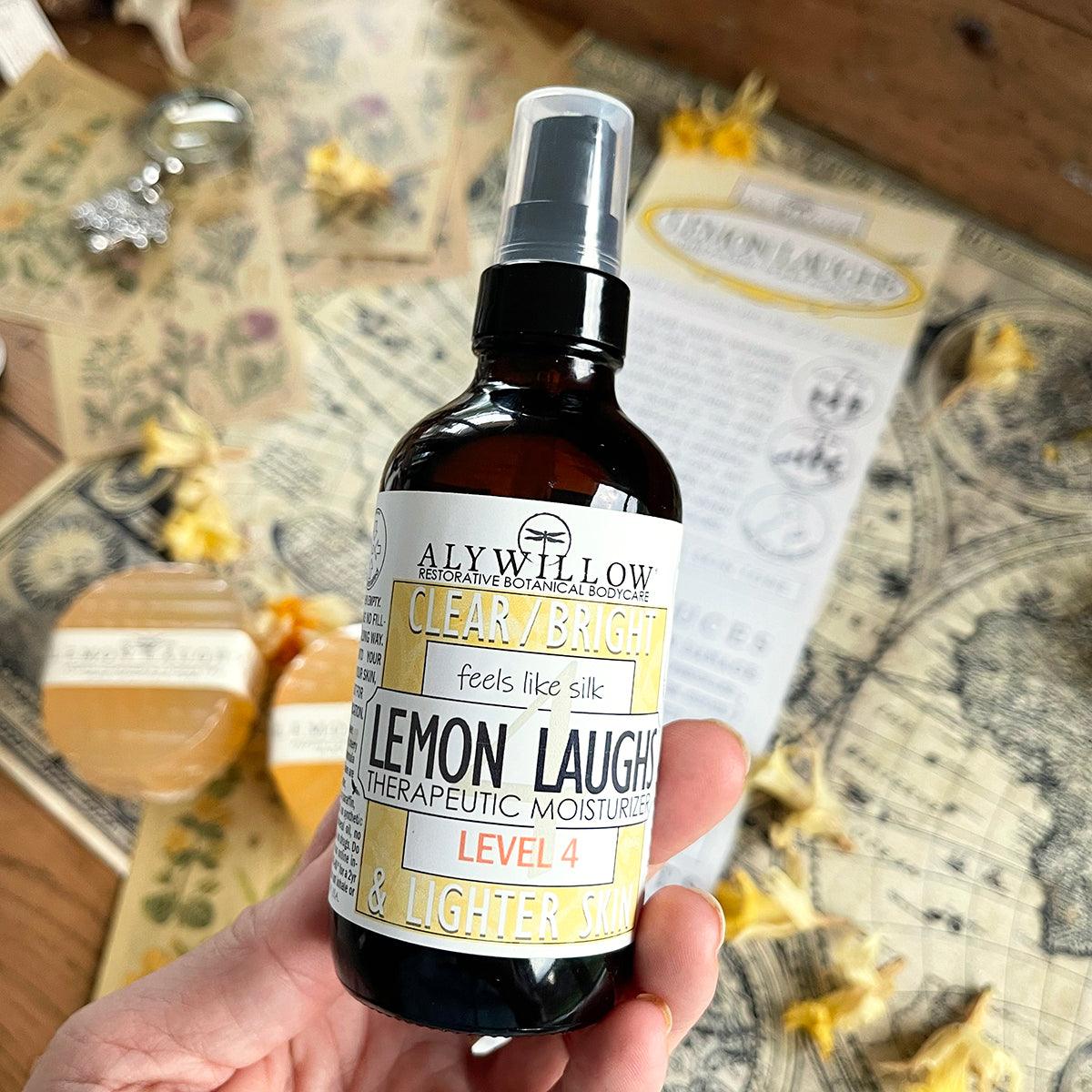 Boost your mood with LEMON LAUGHS! This silky massage oil leaves your skin smooth while reducing blemishes, and giving you flawless skin.
ECO-UPDATE: This product has a new GLASS bottle (and refill bags). The recipe is the same and you still need to shake it before using. When ordering, you will need to choose between a bottle or a refill bag. NEW PHOTOS COMING SOON.
About the Lemon Laughs Formula:
Scent: Of course there are lemons, but you'll also pick up on the musky scent of dark patchouli and other resins.

Flawless Skin: Together they fight bacteria to rid you of persistent acne and they reduce redness, age spots, dark spots, freckles, scars, and other skin discoloration.

Clearing: Easily clears

simple acne and small bumps on the skin. It can also help with cystic acne (but we prefer Sagerow and Warrior for cystic or infected acne).

Antimicrobial properties: fight bacteria and viruses. Great for spritzing your hands, face, and body.

Relieves stress: The more you use it, the more it helps balance hormone levels and increase happy hormone production, so you feel better with a more balanced and uplifted mood.

More Options: Have you seen all the Lemon Laughs Products?
Have questions? We offer many products in addition to this one that can help reduce your stress levels. Please s

chedule a

 

Free Consultation.
How does the Lemon Laughs Formula work?
Your body absorbs many of the ingredients of the things you use on it and Alywillow products are made with plants and minerals that offer natural chemicals that do good things for your body. The Lemon Laughs Formula itself is a series of plants with chemical compositions that help your body balance the production of hormones (we all have them) and create more of the hormones that make you happy, like serotonin and dopamine. These hormones impact your entire body.
They enable brain cells and other nervous system cells to communicate with each other... and this 

gives you relief, so you feel better.
Every time you wash or moisturize from body to toe, your body absorbs and enjoys the benefits these plants have to offer!
It's surprising how this helps reduce stress. It has much to do with the communication system of your body's cells and the wisdom of Alywillow products. 
Plus, these components also help fight bacteria and help even skin tones. Each time you wash, spritz, or moisturize with Lemon Laughs, your body absorbs some of these components and your skin gets healthier and brighter!
Benefits of Level 4 Moisturizers:
Skin type:

 

Normal to dry. 

Residue:

 

Feels like silk - excellent for massage.

Protection:

8-10 hour moisturizing effect with a natural SPF of 10 (it's just a benefit of these plants).
Where to use it:

 

Use on body, face, and hair, even intimate areas.
Thickness: It is highly concentrated with no added water or fillers. It is not greasy, a light liquid spray, and blends well.
Nut-free:

 

it does not contain coconut, walnut, shea nut, argan or any other nuts.

Size:

 110g / 4

oz glass bottle.
Refillable: Refill bags available.
Using Lemon Laughs Level 4:
Skin:

 

Shake well and squirt it into a clean palm. Then rub on. One squirt is often enough for your entire arm. A little goes a long way.
Hair:

 

See our

 

natural hair care guide

.

Bath Time:

 

Add 1-3 tsp of this moisturizer to your bath water let your body soak it up. Not only will you feel better, but your skin will feel amazing! There is also no need for soap or cleansers (unless you wish to use them).
Massage: Professional Massage Therapist love this level. Remember to shake first to blend the plants. Then, apply to your hand and massage into the skin. This moisturizer leaves a nice slip on the skin for a good flow. Eventually, it soaks into the skin and leaves it feeling healthy and glowing.
Every day: For an even more calming experience, wash with

Lemon Laughs Cleansers or enjoy the Spritzer

whenever you will be away from sunlight for 10-12 hours.

HIGHLIGHTS: This is great for blonde or light hair. If you are in the sunshine you'll see great highlights. However, if you have dark hair, do not use this product as it can cause your hair to appear orange if exposed to sunlight. If your hair is dry, use Level 4. If your hair is normal, use Level 3, and if your hair is oily, use the Spritzer.
Ingredients:
Sunflower oil, organic avocado oil, organic hemp oil, organic pumpkin seed oil, cherry kernel oil, organic rosehip oil, and a blend of therapeutic essential oils (Therapeutic Formula). There are no synthetic chemicals, no synthetic fragrances, no synthetic colors, and no other artificial ingredients. There are no sulfates, no parabens, no phthalates, no paraffin, no gluten, no propylene glycol, no alcohol, no mineral oil, no DEA, and no DEET. Alywillow products are cruelty-free and never tested on animals. If an adverse skin reaction occurs, you may be allergic to one of the plants in the formula. Discontinue use, seek medical attention (if needed), and notify us, we may be able to help. If you have allergies to any plants, please review our ingredients list.
Awareness:
Ask our team:

 Wondering what is best for you? Just 

ask us

!

Photo-toxic: Use only when you will not be exposed to sunlight for at least 8 hours as this contains citrus oil which has photo-toxic properties and can cause sunburn.

Prevent Over-spray:

 Spraying directly onto your skin can cause over-spray on your clothing and make your floors slippery. You can prevent this by spraying it directly into your palm and then applying to your body.

Avoid your eyes: If it gets into your eyes, flush with water or full fat milk (for oil based products, including essential oils).
External use only. Do not consume.
Healthy Life:

 Our products offer many great benefits, yet they are not enough to restore your health and joy by themselves. Read 

10 Steps to Healthy Skin

 to learn how your health and happiness are affected by your life choices.

Shifting colors, scents, and textures:

 Our products are made from plants and plants vary from one harvest to the next. This may cause a variation in color, scent, or texture in our products. It is completely normal and expected from 

Truly Natural Products

. 

Cruelty-free and Dog Friendly:

 We create over 150 VEGAN products from plants and minerals. They are 100% natural and contain no synthetic chemicals. We don't test them on animals, but you can review our 

Dog and Pet

 information to understand more how your pets can benefit from using Alywillow products.

Pregnant & Nursing women:

 You can use this product. Many Alywillow products are safer than anything you can find on the market, however, some plants should not be used during this time. Please refer to our 

Pregnant and Nursing

 page for more information.

Coupons:

 Sign up at the bottom of this page to receive our monthly newsletter for updates & coupons.

Disclaimer:

 These statements have not been evaluated by the FDA and therefore should not be taken as medical advice. These products are not intended to diagnose, treat, cure, or prevent any medical conditions. If you are in doubt, always consult your doctor.

USA:

 We make over 150 products, right here in the USA, using only plants and minerals.
Love Yourself - Love Your Life - Love Your Earth - Love Alywillow