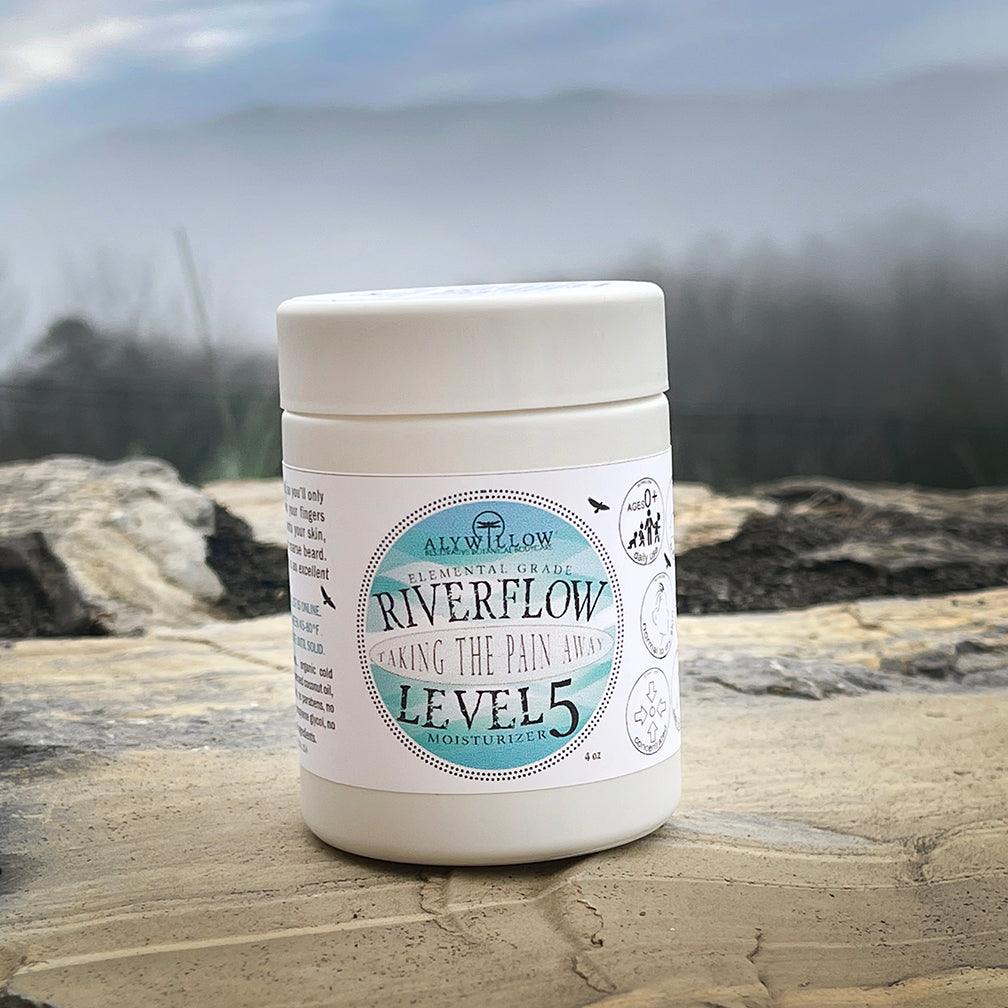 New and available now!

This thick and concentrated moisturizer restores your dry and cracked skin while improving the function of your circulatory and nervous system. This benefit helps you feel better as it naturally reduces swelling, letting your pain flow away like water in a river. It is so gentle, it can be used by babies and pregnant women in their 2nd & 3rd trimesters. It's so safe you can even use it on your face.

It's safe enough to use these daily just because you love its scent, but Riverflow can also help with these issues - arthritis, bee stings, bruising, inflammation, varicose veins, gout, repetitive injury, carpal tunnel, back ache, muscle aches, joint pains, hurtful skin irritations, abscesses, cysts, burns, general pain and swelling, bursitis, tendon injuries, joint and bone injuries, headaches, lupus, Lyme disease, restless leg syndrome, and fibromyalgia.
  

About the Riverflow Formula:
Our ancestors often spoke of the rivers of the body and how they need to move and flow for us to stay healthy and feel good. These rivers include your air flow, your blood flow, and your nerve flow. The Riverflow formula is designed specifically from plants that helps support the function of these systems... and that just naturally helps you feel better.
How does the Riverflow Formula work?
This complex contains naturally occurring analgesic and anti-inflammatory properties which have the ability to reduce the blockages, muscle spasms, and swelling that happen in the body. There are no drugs, no synthetics and every ingredient is a plant, so it's vegan. Your body absorbs the ingredients of the products you use and Riverflow products can improve your daily life by offering these benefits:
EXTRA GENTLE: The Riverflow formula is designed to be gentle for everyone - including babies and pregnant or nursing women.
RELIEVES PAIN & SWELLING: A

pply to or wash the area of concern every 10 minutes until you achieve the level of relief you desire.

RESTORES DAMAGED TISSUE & BRUISING: The faster you apply it to an injury, the faster you see results. Plus, by reducing the chance of swelling, you reduce much of the secondary damage normally caused to the surrounding tissue from an injury. Also speeds up the recovery of bruises.
Inhaling the Riverflow spritzer will help you breathe better and assist your Respiratory System, but don't inhale the spray moisturizers as they contain oil.
Scent:

Even though these products contain over 50 plants, the refreshing scent of Lemongrass in the Riverflow Formula is the dominant scent.

Understanding Alywillow:

 

Read through our

 

Attributes

 

and

 

Safety Grade Levels

 

to understand how we identify our products.
Safety Grade Level:

 

ELEMENTAL. You can use it everyday, from head to toe, just for the fun of it. If you are pregnant, nursing, or under age 7, then please use only as needed.
Designations:

Restorative Designation: Powerful at reducing damage of injury, pain, and swelling.
Preventative Designation: as it has high levels of nutrients, making it a perfect daily addition to healthy living.

Supports these Systems: Circulatory, Nervous, Muscular, and joints of the Skeletal System.
Have questions? We offer many products in addition to this one that can help you with pain. Please s

chedule a

 

Free Consultation.
More Options: Have you seen all the Riverflow Products?
Benefits of Level 5 Moisturizers:

Skin Type:

 

Normal to very dry.

Residue:

 Feels extra buttery and creamy, although harvest to harvest can cause slight variation in texture.

Thickness: It is highly concentrated with no water or fillers and has the consistency of butter.
Benefits: Repairs cracked and chapped skin by sinking into your skin layers and repairing the damage. 
Uses: Excellent for massage, lubrication, facial care, full body use, and 
Protection:

 

10-12 hour moisturizing effect with a natural SPF of 10 (it's just a benefit of these plants).
Where to use it:

 

Use on body, face, and hair, even intimate areas.
Size:

 4

oz glass jar.
Using LEVEL 5: 
Skin: It's fabulous for your skin! Start with a little (

size of a green pea) and rub it between your hands to melt it. Then apply it to your skin (with clean hands) and rub in well.

Face: Yes! It will help prevent from wind, cold, or sun - restoring your skin if it is irritated by harsh weather. Read 10 Steps to Healthy Skin or schedule a FREE Skin Consultation. 
Nails: Every time Level 5 gets on your nails, it gives them a boost of nutrition that eventually strengthens your nails. 
Hair:

 

You can use it on dry coarse hair or beards! However, our products are different from anything you have used before, so make sure you read our 

natural hair care guide

.

Lubrication:

 

This LEVEL 5 moisturizer is safe enough to be used any where on your body to reduce friction, including your intimate areas. It's highly concentrated, so melt it between your palms first. If you have itching in your intimate areas, use Warrior or Wildwood Level 3 or Level 4 instead. 
Ingredients:
Organic cold-pressed shea nut butter, organic cold-pressed coconut oil and essential oils (Riverflow Formula). There are no synthetic chemicals, no synthetic fragrances, no synthetic colors, and no other artificial ingredients. There are no sulfates, no parabens, no phthalates, no paraffin, no gluten, no propylene glycol, no alcohol, no mineral oil, no DEA, and no DEET. Alywillow products are cruelty-free and never tested on animals. If an adverse skin reaction occurs, you may be allergic to one of the plants in the formula. Discontinue use, seek medical attention (if needed), and notify us, we may be able to help. If you have allergies to any plants, please review our ingredients list.
Awareness:
Ask our team:

 Wondering what is best for you? Just 

ask us

!

Avoid your eyes

: If it gets into your eyes, flush with water or full fat milk (for oil based products, including essential oils).



External use only

. Do not consume.

Healthy Life:

 Our products offer many great benefits, yet they are not enough to restore your health and joy by themselves. Read 

10 Steps to Healthy Skin

 to learn how your health and happiness are affected by your life choices.

Shifting colors, scents, and textures: Our products are made from plants and plants vary from one harvest to the next. This may cause a variation in color, scent, or texture in our products. It is completely normal and expected from Truly Natural Products.
Cruelty-free and Dog Friendly: We create over 150 VEGAN products from plants and minerals. They are 100% natural and contain no synthetic chemicals. We don't test them on animals, but you can review our Dog and Pet information to understand more how your pets can benefit from using Alywillow products.
Pregnant & Nursing women: You can use this product. Many Alywillow products are safer than anything you can find on the market, however, some plants should not be used during this time. Please refer to our Pregnant and Nursing page for more information.
Coupons:

 Sign up at the bottom of this page to receive our monthly newsletter for updates & coupons.

Disclaimer:

 These statements have not been evaluated by the FDA and therefore should not be taken as medical advice. These products are not intended to diagnose, treat, cure, or prevent any medical conditions. If you are in doubt, always consult your doctor.

USA: We make over 150 products, right here in the USA, using only plants and minerals.
Love Yourself - Love Your Life - Love Your Earth - Love Alywillow